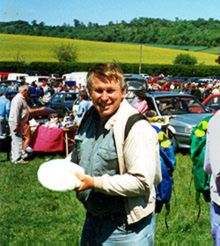 China Finders trades in china from all over the world, recently importing a large shipment of hard-to-find patterns from the UK. Now with the assistance of online trading these needed pieces will complete quality dinnerware sets in a various homes across the world.
Listing your requests on the database is a free service. As items become available all those wanting that particular pattern are notified simultaneously. Prices are based on the rarity and quality of the china. "Teacups average around AUD$44 each, stoneware cups sell for about AUD$22, while one from Wedgwood's top-of-the-range Gold Florentine pattern would be AUD$100."
Despite his many contacts and satisfied customers, Managing Director Ken Curry wryly admits that he still hasn't been able to find the missing pieces for his grandmother's dinner service. "So if anyone has a Royal Doulton French Provincial dinner set, pattern number H4945, I'd really love to hear from you."
Ken Curry pictured above scouring
an English countryside boot sale for
oddments of English China.